What is the OPC all about?
What happens when the organization working on food justice connects with the organization providing food to poor people in the neighborhood?
What happens when the organization helping youth express themselves in creative ways connects with the organization developing community models based in restorative justice practices?
What happens when the organization bringing yoga to poor communities connects with the organization advocating for worker justice?
We don't know, exactly, but we know it will be amazing. We know it will transform the practices of those organizations. We believe it will create peace born of justice.
That is the simple principle behind the Oakland Peace Center.
The Oakland Peace Center has two different functions: it is a physical thing, and it is a collective.
The physical thing is a giant white building just below the 580 and just above the uptown neighborhood in Oakland—40,000 square feet of meeting space, event space,  worship space and office space with enough greenery and foliage to make it feel a little removed from the hustle and bustle of downtown. Groups meet there to meditate, to teach activism to African American children, to offer strategies to make AA meetings more effective, to worship, to practice and perform plays on themes of peace and justice, to provide food and clothing for people in need, even to make raw juices for underserved communities. The space, currently owned by First Christian Church of Oakland, offers very low-rent office and occasional use space for our many partners to further their work.
But the Oakland Peace Center is also a collective of forty different organizations with a shared vision of creating a Bay Area that knows no violence, because we have achieved access, opportunity and dignity for all people in the Bay Area. Some of those organizations have office space in the building but most do not. Some host regular meetings in the building but many have their programming throughout the Bay Area: in schools, in correctional facilities, in parks, in homes and on the street.
Some of our partners are large and well funded, and some have almost no budget at all –just a dream to address a particular issue in their immediate community.
Our "Peace Partners," as we refer to the organizations that choose to claim a connection to the Oakland Peace Center, address issues of peace and justice in our neighborhood in a huge variety of ways. And our greatest dream is that these groups would work together more closely, more efficiently, and ultimately in ways that transform how they function as discrete organizations and the ways they do peace work collaboratively. They are already doing exceptional work against crushing odds—if they can strengthen each other, this pocket of the country could become a model for communities nationwide.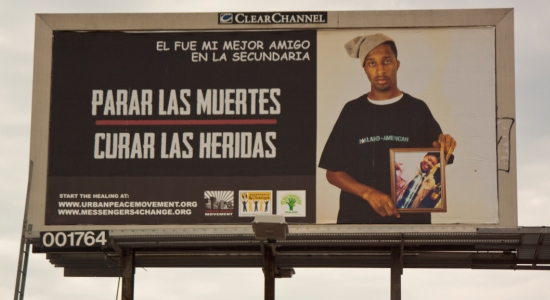 Some of the very simple ways we are seeking to build a collective movement in our very early stages are the following:
We are providing opportunities for our partners to interact with each other (and cross-pollinate organically) in intentional, social contexts quarterly.
We are bringing our peace partners into the visioning process for how our building can serve our collective vision as we find a non-profit developer to help us rehabilitate our historic facility.
We are providing platforms for our peace partners to present joint programming they might not have envisioned doing otherwise, with OPC staff supporting those efforts.
We are beginning to look for ways organizations can share administrative, communications and grant-writing staff.
The Oakland Peace Center is still at the beginning of its journey, but we are excited about what this weaving together of peace and justice movements in Oakland and the Bay Area can mean for our future. We hope you will join us in making the dream a reality.